The Afro-pop singer cum Gongo Aso crooner has seen enjoying his life with his family in a popular place in Dubai.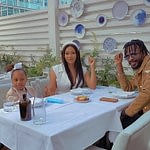 Celebrity 9ice and his beautiful wife Olasunkanmi and their daughter went to Dubai to have an amazing moment full of fun.
According to a reliable source from his wife Olasunkanmi, and their daughter, Michelle share pictures of their family where the beautiful couples and their stunning daughter enjoy their vacation.
Read This :See What 9ice Says About Being Broke
When asked how the moment in Dubai was? the beautiful Olasunkanmi wife said it was so amazed having my husband besides me together with my darling Michelle i so so much elated