President Buhari has made youthful  Abdulrasheed Bawa the chairman of EFCC and sends the name to Nigeria Senate for approval.
The presidential spokesman Femi Adesina revealed this in a statement on Tuesday.
Related Story: Buhari-named-the-new-chiefs-of-security-after-retired-buratai-and-others-see-the-lists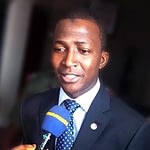 Adesina said the president conveyed his request in a letter to Nigerian Senate President Ahmad Lawan.
Bawa, who is 40 years old, is one of the pioneer EFCC cadet officers since 2005.
You Might Like This Story: Wizkid-drags-president-buhari-on-twitter-says-he-is-incompetent-and-a-failure
Abdulrasheed Bawa, who is a  Deputy Chief Detective Superintendent with Nigeria's flagship anti-corruption agency, the Economic and Financial Crimes Commission (EFCC), is set to break records if confirmed by the Nigerian Senate to lead the body.
Abdulrasheed  Bawa, who currently the head of  Lagos zonal office of the EFCC, is the substantive chairman of the commission.
Mr. Bawa was appointed in 2015 to head the commission's investigations of former president Jonathan' minister  Alison-Madueke, a Minister of Petroleum Resources, and her associates.
Mr. Bawa has successfully headed the role of leadership management since his joining the commission. It is expected to take over from the acting chairman Mohammed Umar of the commission as soon as his appointment is confirmed by the Senate.
Bawa holds a bachelor of arts degree in economics, and a master's degree in international affairs and diplomacy.
The appointment of youthful Abdulrasheed Bawa is a new development for Nigerian youth to partake in the political and administrative involvement of Nigeria's social-economic growth and development.
Mr. Bawa will be the first-ever appointed youth to head such a position in Nigeria's political history.
What is your take on Bawa's appointment as the new EFCC chairman? is the appointment good or bad?
 Drop your comment in the box
If you like this article kindly be part of our mailing list to receive freshest update from Blend