Panics grip world banking as Credit Suisse shares crash
Panics and anxieties have gripped global financing sectore as Switzerland credit suisse's shares crash
For the second time in a week, anxiety has engulfed international banking equities after California's Silicon Valley Bank (SVB) collapsed, which was followed by new anxieties over the health of big European bank Credit Suisse.
What's happening to Credit Suisse Share?
The Saudi National Bank (SNB), the lender's largest shareholder, decided against providing it with new funding because regulations limit its stake, which is currently 9.9%, to 10%. As a result, shares of the Swiss lender fell more than 30% at one point on Wednesday, reaching a record low of about 1.56 Swiss francs (£1.40) per share.
You may also read this Panics as CBN issues guidelines on open banking for financial operators in Nigeria
Ammar Al Khudairy, the chairman of SNB, told Reuters that Credit Suisse was "a very solid bank" and was not anticipated to require more funding after obtaining 4 billion Swiss francs (£3.59 billion) to support a significant restructuring plan in the fall of 2017. His remarks about a funding cap, however, alarmed investors who thought it may restrict emergency funds from Middle Eastern investors.
That increased anxiety about potential weaknesses across a global banking sector still reeling from SVB's collapse as well as concerns over ongoing issues at the Swiss lender, which is significantly larger than SVB and is considered systemically important to the global financial system. The Swiss lender is Europe's 17th largest lender by assets.
As traders panicked, the stocks of numerous other European banks also fell on Wednesday. It's crucial to keep in mind that stock prices actually represent investor emotion rather than the true soundness of balance sheets.
Customers may become anxious in response to market fluctuations and withdraw cash, resulting in a run on deposits that is dangerous for smaller banks that depend more largely on client cash. Larger banks, like Credit Suisse, are expected to be in a much stronger situation, in part because of government regulations and the annual stress testing done by regulators that were implemented after the financial crisis.
Naira Swap – cash improves as new bank notes dry up
The gradual returning of , old currency in circulation has improved in major cities across Nigeria following the third day of
Normalcy has set in as new bank notes dry up, cash improves as new bank notes set in for naira swap policy in Nigeria.
The gradual returning of , old currency in circulation has improved in major cities across Nigeria following the third day of full implementation of the Supreme Court ruling on the legal tender status of old Naira banknote.
Blend News correspondent learnt that banks have begun dispensing obsolete banknotes both over the counter and through ATMs at the same time.
In addition, just as banks already accept them, the majority of merchants and service providers also do.
However, the ATMs and banking rooms visited by Vanguard indicate that only old banknotes were available, suggesting that the banks may have run out of fresh Naira notes.
The majority of banks, including her own, have not received supplies of the new banknotes since this week, according to a staff member of one of the banks in Lagos Island who spoke to Vanguard.
Additionally, our research shows that banks continue to impose cash withdrawal restrictions, up to a daily cap of N10,000 per customer.
However, due to a cash shortage at the time of the visit, several banks were not dispensing currency notes. One of the banks' security staff reported that the cash was spent earlier before the visitor arrived.
In the meantime, traders were spotted taking the old naira banknotes at the markets that were visited.
A merchant stated he used the old notes to pay for gasoline and the payment was accepted after he took them from an ATM . Nearby drivers and merchants also accepted the old banknotes.
Panics as CBN issues guidelines on open banking for financial operators in Nigeria
Panic grips financial operations as cbn issues guidlines on open banking
New recommendations released by CBN would alter Nigerian banking
cbn open banking regulatory framework
Panic grips financial operations as CBN issues guidlines on open banking
In accordance with operational standards, banks and other financial institutions are only allowed to access and manage consumer data in certain circumstances.
Open Banking is a system that enables banks to share their customers' financial data with other financial institutions and third-party providers through application programming interfaces (APIs). This enables third-party providers to offer innovative financial services such as personal finance management, loan and investment applications, and other value-added services. Open Banking also allows customers to access a wide range of financial services without having to switch banks or create new accounts.
Operational rules for open banking in Nigeria were released by the Central Bank of Nigeria on Wednesday.
In accordance with the operational standards, banks and other financial institutions are only allowed to access and manage consumer data in certain circumstances.
With the clients' express cooperation, open banking is a financial services concept that enables third-party financial service providers to access banking data, generally using application programming interfaces (APIs). Customers can essentially share their banking information with other financial service providers, giving them access to a wider selection of goods and services.
The CBN claimed the recommendations furthered its responsibility to promote stability in the country's financial system in a memo signed by Musa Jimoh, director of the payment services management department.
The CBN must create and maintain an Open Banking Registry that will act as a regulatory monitoring tool for those who are a member of the open banking ecosystem, in accordance with the rules. Additionally, this registry is intended to increase transparency and give a way to control system operators.
The standards also provide a Consent Management structure, which requires customers to give explicit consent before their information is accessible for, among other things, open banking products and services.
In order to promote the development of customer-focused products and services, the adoption of open banking in Nigeria will encourage the sharing of customer-permitted data between banks and outside companies.
"It is also targeted at boosting efficiency, competitiveness, and access to financial services,'' the memo shows.
In his words Mr. Jimoh emphasized the need of properly following the rules and guidelines because they are designed to encourage innovation and broaden the selection of financial goods and services offered to bank customers. He urged all parties involved to prioritize compliance in order to maintain the open banking system's success.
The apex bank decided and classed banking and other associated financial services as such within the legal framework for open banking in Nigeria, and he pointed out that the rules are expressly oriented towards these services.
Npower Recruitment for batch C 2021 application Opens
The federal government of Nigeria begins application for Npower batch C application opens for 2021 applicants
Npower recruitment for batch C 2021 application Opens, The Federal Government  of Nigeria has unveiled the long-awaited N-Power batch C application programme has been launched and controlled by the National Social Investment Programme, NASIM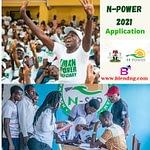 NASIM will be responsible for the recruitment of Npower batch C  candidates for the year 2021 edition of the program said the special assistant, Media & Publicity to the Hon Minister of Humanitarian Affairs, Disaster Management and Social Development(NSIP) by Mrs. Nneka Ikem made the disclosure on her official Twitter handle on Thursday.
"The tweet reads: "Breaking! @npower_ng Batch C to be launched today on @NSIP_NG Management System Platform NASIMS".
As Nigerians begin to look out for their names and how the process will be started Blend NG has piled up useful links and details where the process is taking place.
NSIP has made a link to where successful candidates for the batch C Npower 2020 application will check their names if they have been selected for the programme .
It will be recalled that about five million Nigerian youths had successfully taken part in the application process back in the year 2020 applied for the N-Power programme .
The npower batch C application 2021 was commenced registrations on June 26, 2020, was aimed at engaging about five hundred thousand youths.
According to the minister, the N-power programme is focused on providing Nigerian youths with opportunities to gain employability and entrepreneurship skills.
Batch C Npower application link 
The link to the batch C Npower application has begun and the NASIM has released the website where the successful applicants will check for their names and update their data
How to begin Npower recruitment for batch C 2021 application that  Opens
The following steps will be taking to begin the registration
visit the official NASIM website here
Be a citizen of Nigeria
Have a good means of identification
Bank verification number (BVN)
Bank account details
Passport photograph
Email address and phone number
Be at least 18 years
Good communication skills
Birth certificate from Court, hospital, local government, or church
Certificate of origin
Applicants must be physically and mentally fit
Your personal health records are very important
Have all your credentials with you
How to begin registration on the NASIM website
If you are a first-time visitor to the NASIM portal you need to do the following
[the_ad id="6232″]
Click on login
Use the "Forgot Password" Option
Enter your N-POWER application email
Click on "Send Link"
Check your mail and follow the instructions to reset your password.
NOTE: you may not receive any link to reset your password what you need to do is to go back to the NASIM website and login with your email then create your password that you will be used to login again anytime you return
After a successful reset of the password, please log in to update your records.
What is your take on this npower batch C application 2021
Let us see your reaction in the comment box