The Upgrade crooner Bella Shmurda releases his grossing mouthwash official music video to his Rush populated single song
Bella Shmurda releases an official music video of his heavily grossing single banger Rush.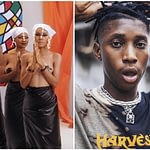 The rush music video has faced serious critics by some Nigerians because of some semi-nude content appearing on the clip.
What the video
Naya the music video director did a great artistic vision to the video with his creative skill.
Download Rush here
Download "Rush Video" Bella_Shmurda_-_Rush_Official_Video480p.mp4 – Downloaded 31 times – 12 MB