Ghanaian police set Barry Jhay free and cleared of suspected murder of his label boss Kashy Gordon
The Ghanian police have set Barry Jhay free of charge.
Police Clears Barry Jhay, the CashNation Entertainment Gordon who is the CEO, and Barry Jhay's record label boss died recently as a result of a little rift that happened between the two.
Barry Jhay was said to have involved in the death of his boss Gordon.
It will be recalled that Jhay's recent song Ori was done under his label while he was alive.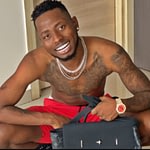 Gordon was in a tussle with his label's frontline artist Barry Jhay and the singer was arrested afterward.
Pulse reported that Barry Jhay was taken to the police station in Beaufort  Adabraka, Accra.
They claimed that the CashNation Entertainment boss attacked Barry Jhay while 'behaving abnormally'.
According to the statement, the singer left the building immediately before Gordon mistakenly fell off the fourth floor of the apartment and died.
Investigation reveals that Barry Jhay was innocent to the death of his late boss and therefore charged free.
Barry Jhay's legal team also made available a statement supposedly from the Office of the District Commander Ghana Police Service Adabraka-Accra, which also clears the singer.
Why Police Clears Barry Jhay? The investigation carried out by police showed glaring that Jhay was proved innocent about the death of Gordon.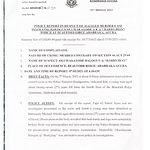 Cash Nation Entertainment, Gordon death was nowhere to be linked to Barry Jhay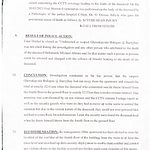 What can you say about Barry Jhay, To be cleared by Police?
My Love For Big P Is Not For Money Ivorian Model (Eudoxie Yao) Blasts Critics Who Says She Is for Scamming
The Sensational Ivorian model and plus-size lady gushes all critics saying she for money with Big P
While replying to critics for saying her love for billionaire Ivorian man popularly known as Big P is a scam and refers to gold digger. The plus-size woman said:
Look! My love for My beuebue that some stop saying i'm with Big P for his money $ there is never been a money thing between him and me …love him without expecting something back….Yao Eudoxie
Read This Stop Telling Me To Cover Up..hubby Likes It Like Strawberry
Yao further expressed her feeling and love she has for Big P with a collection of pictures they took together
But contrary to this some people have attacked the model with different critics and comment
Family In Joy After Rich Businessman Gifts Their Child (little Obidient Girl) N500,000 Cash To Bless Them
The viral young girl known as Chioma Success has received a sizable present from a Nigerian businessman simply known as Ezeobi.
The youngster and her mother were recently given compensation by the kind-hearted individual after she achieved celebrity online as a result of viral videos and pictures showing her enthusiasm at a demonstration in support of Labour party presidential candidate Peter Obi.
Related Story — Portable bags N50M endorsement deal with Obi Cubana – Video
In another part of the video, Success was seen riding in a car with her mother and thanked Nigerians for their outpouring of love and support.
The five-child father wrote on his Facebook page on how time is flying very rapidly and how his youngster is actually developing.
In the video, Star Dike was seen with his mother Judy, who requested that he call her "mummy," but the small boy showed obstinacy by repeatedly using his father's name.
Watch the Instagram video Of businessman who gift little obidient child N500,000 cash
James Brown Leaked bedroom Video Set Social Media on Fire – [Watch Full Video]
Nigerian social media crossdresser James Brown has set the netizens on fire with his newly released bedroom sex video of him and his partner . James Brown who could not hide himself was seen riding on his girlfriend while the video was recorded,James was criticized by social media users.
The leaked sex video of James Brown was captured and reported by Blend Tv reporter and is currently received tons of backlashes from Twitter users, and some concerned Nigerian as why the crossdresser will opt for such barbaric behavior online .
Blendng media team happy to bring to your view the full sextape video of James Brown on Twitter and social media to watch .
In a critic message sent by social media users said "We Thought You are G#y, So You Dey Knack like this"
TikTok Content Maker Black Chully Cries Out After Her Leaked Video
Meanwhile James Brown Replied His Fans Online that the celebrity spent millions of dollars on a tear-rubber Range Rover for himself in September and flaunted the luxurious vehicle on his social media accounts.
Watch full video 18+( James Brown sextape video)
James leaked video
Full James Brown sextape video link
Latest and Trending