Have you  been taken lemon before? if you are not you have missed lots than expected and we dare you to take this fruit as much as you can .
As reported by WHO and based on the health study report which shows that lemon peel is good for oral hygiene, weight loss, skin, heart and bone health, and immunity. It is also handy around the house because it can be used as a natural and non-toxic cleaner, deodorizer, and insect repellent.
Blend reporter has gathered some useful hints on why, how and benefits of taking lemon peel which you haven't heard of before.
In this article we have piled up the benefits of this great fruit where you can take to aid your health and be in good health form all the time.
You May Like This Story:
https://blendng.com/top-tech-companies-that-have-visibly-supported-the-endsars-campaign/tech/
https://blendng.com/too-bad-coronavirus-cost-man-united-70m/sports/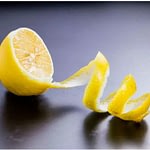 The following are the list of health benefits of lemon peel
Do you know, taking Lemon peels can help as a home remedy against Cancer???
Lemon peel contains  quite an amount of antioxidants that fight cellular damage(Cancer) wow!.
It also contains as much as 5 to 10 times more vitamins than the actual lemon juice. Therefore don't waste it.
Lemon peels are health rejuvenators that helps detoxifying the body.
The health benefits of lemon peel are amazing and it is said to have the ability to kill cancer cells and is 10,000 times stronger chemotherapy ( no scientific evidence).
Other benefits includes:
#Treat gallstones
#Boost the immune system
#Stregthened the Gum
#Promote heart health
Lemon can be taken as whole(with the peels), no more wasting the natural supplements
If you enjoy this article kindly drop your comment in the comment's box we will glad to hear your feedback.