The Lagos Stat Traffic Management Authority officially known as LASMA its officer escape untimely death after jumping into the river while chasing the suspected driver .
The moment when the  officer men of Lagos State traffic authority escaped death while chasing the driver who was suspected.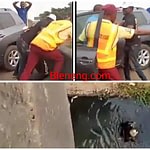 You May Like : Nollyhood-mourn-the-death-of-orisabunmi-at-61
The suspected driver who was directed to pack for thorough check was  nearly killed the LASMA officer while reversing the car.
The incident caused the officer to jump inside the river bridge located at Magodo in Lagos State.
Blend Tv reporter gathered that the event was happened at Magodo in Lagos State people at the event were surprised to see the LASMA officer alive.
Blend Tv got the video clip of the incident where the scene was taking place
Watch The Video Below