As the saying goes "Naija No They Carry Last" such is the case of Sergeant Mary Ehiarinmwain who was chosen among the other collogues in US army for her brave record of achievement in her humanity service for her profession.
Sergeant Mary Ehiarinmwain done an incredible work by response quickly to rescue and safe the life of her dear military soldier from death .
In his statement Hiram Figueira through his Linkden official page said In June 2020, Ehiarinmwian witnessed a vehicle flip over in front of her and land on its roof. Unknown to her at the time, the driver was another soldier from her unit, the 523rd Engineer Support Company at Schofield Barracks, Hawaii.":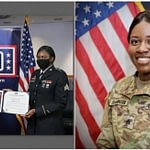 "Ehiarinmwian immediately pulled over and approached the smoking vehicle. She freed the driver and pulled him to safety, where she kept him stable until EMS arrived. The driver survived with minor injuries."
Read this article
https://blendng.com/the-killing-of-innocent-by-amotekun-what-you-need-to-know/news/
https://blendng.com/some-california-incumbents-lagging-in-fundraising-report/politics/
With this Figueira said US army sees this as a milestone achievement and deserves to be awarded hence the awarded was given to her .
While Ehiarinmwian sees this as normal and move with her responsibility the military went beyond and deserve to be treated with great pleasure.
In another development, another Nigerian man in the US who was working in military lieutenant Agunbiade was praised and awarded an award for his service,the US Army never goes without appraisal hence they awarded Agunbiade for managing the fund giving to him worth over $45M equivalent to (17,385,350,000) in his jurisdiction.
Lieutenant colonel Agunbiade was awarded with Navy and Marin Corp Development Medal for his incredible work.
In conclusion Mary Ehiarinmwain is a good per excellence for her great record of achievement that anybody would love to emulate and copy .We say congratulations to her