No one would ever imagine that Lil Frosh career will never see the light of the day after signed to Davido DMW record label but to many people's surprise signing to a big label is not guaranteed success but Omo Ologo rescue the artiste from fading out

.
Welcome to Starbucks On Blendng.com on today article our insight is on fast rising singer Lil Frosh with his music 🎶🎶 career we binge on his recently dropped hit banger OMO OLOGO which has become a popular choice in the street. The comparison is on his achievement while he was in DMW to what OMO OLOGO single track is doing.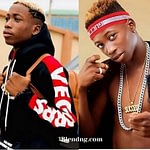 While he was in DMW Lil Frosh was not that trending with any hit songs despite being in big record label ,why this happens ?only God knows but after leaving the DMW with allegation of beating his girl friend the singer drops a single which features Zino Mapariwo crooner then the story changes .
Lil Frosh was even better off when he was unsigned compare to his current status after he was expelled  from the DMW  a record label headed by Davido with over 5-7 artistes  in the team.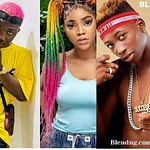 Omo Ologo would not have been a success hit song  with the contribution of his friend Zinoleesky you may check out Zino song here for  download .
Popular song for download:
https://blendng.com/activate-stonebwoy-ft-davido/music/
https://blendng.com/download-ayra-starr-away-mp3/music/
With no hit  song under the previous  label and  the issue  beating his Girlfriend that eventually led to his eviction from DMW record label, Lil Frosh had a very rough 2020 but 2021 is going to be blast year for the singer .With this one will boldly say that being under big label is not a determinant for you to blow as an artiste what you need is a solid creative artistic work and pray to God to crown your effort.
BlendNg takes a look at his activities and the songs Frosh drops under DMW record label
Frosh Songs Under DMW
The following songs were released while frosh is under Davido Record lable;They are:
"50 Fifty"
Kole Re Body featuring Mayorkun
in fairness and Sadly to say when combined both songs were no where to go for the singer in term of acceptability and popularity in accordance to street credibility  as compare to "Omo Ologo" within a few days of releasing the song.
"Omo Ologo"which has the collaboration of Zinoleesky without mincing words from our record is a top-notch most listen to in the city across the net and has much downloads than ever before. The song is doing well in term of searches, clicks and downloads as well as digital listing in most entertainment blog website in Nigeria and Africa .
In view of this our correspondent sample some opinion on popular Micro-blogging platform Twitter where a twitter user made an amazing and well sounding comment about the song.
A twitter user with identified name as @Olayinka090 tweeted :
  Omo Ologo is bigger than all songs Lil Frosh released under DMW. He should thank Zino for bringing him of the dark..
This life, no be who sign to the bigger label matter 000. Just pray for grace.
it appears that the tweeted words have generated lot of mix feelings and reactions from many Nigerians as well as music critics they said the statement in no way more than a truth.
In view of this how do you rate or do you think Omo Ologo is a hit song bigger than what he has done while with DMW.
DOWNLOAD LIL FROSH OMO OLOGO FT ZINOLEESKY  HERE
Drop your comment in the box let us hear your view of this
If you like this article kindly be part of our mailing list to receive freshest update from Blend