See Why These people May Contract Covid-19
As the deadliest novel corona  virus is trying to emerge again thousands of people have seen gathering at NIMC office  to get their NIN at Alausa Ikeja in Lagos
As the deadliest novel corona  virus is trying to emerge again thousands of people have seen gathering at NIMC office  to get their NIN at Alausa Ikeja in Lagos
Following the directive order and the deadline given out by MDCE(Ministry Of Communication And
to all telecommunication providers for people of Nigeria to register their SIM cards to avoid service disruptions
Nigerians came out amass amid of covid-19 to the office of NIMC to register their SIM cards in order to avoid network cut off on their numbers , this action has caused for serious attention by the the by the national assembly of Nigeria over this it is this while
NASS has ordered the NCC to extend the deadline given out to do the registration in order to restrain larger gathering which goes agaist covid19 rules .
It will
be recollected
that Lagos state governor Babajide San-wolu has issued out a partial restriction for Covid-19.
Though there was no ban on movement or any form of related covid-19 restrictions.
Also, the agency of federal government on digital economy has issued out an order to all network providers to register all SIM cards in Nigeria.
BlendNG reporter gathered some of the highlights of the decision made on the implementation of the policy
.
READ ALSO
The implementation of the policies are:
Operators to

require

ALL their subscribers to provide valid National Identification Number (NIN) to update SIM registration records

.
The submission of NIN by subscribers to take place within two weeks (from today December 16, 2020, and end by 30 December 2020)

.
After the deadline, ALL SIMs without NINs are to

be blocked

from the networks.
A Ministerial Task Force comprising the Minister and all the CEOs (among others) as members is to

monitor

compliance by all networks

.
Violations of this directive will

be met by

stiff sanctions, including the possibility of withdrawal of operating license

.
You May Like This Story 181-students-staff-of-lagos-school-infected-with-covid-19
ANALYIS
It is of our opinion that there are certain things to take into consideration and this will greatly affect  and avoid  the spread of the virus.
The large gathering of people at this time around is called for concerned and it is very alarming.
Medical experts have raised a concern over this social gathering, which may bring about remerging of novel virus in Nigeria.
The federal government should introduce a measure and adapt another system to avoid large social gathering which may lead to Covid-19 .
Federal government to extend the deadline given out earlier this will give Nigerians more time to register their SIM and get their NIN.
In another development WHO made a step further on how to ensure safety and avoid contacting each other. The video was made to educate and enlighten the people all over the world about how to avoid the novel virus. WHO made an incredible steps over this
Quickest Ways To Read More Contents On Blend
Bombshell: 74-year-Old Minister Marries 18 years Old Lover Lover In Secret Wedding Plan
The Minister of Agriculture and Rural Development, Sabo Nanono, has hitched an 18-year-old school leaver in a mysterious wedding,DAILY NIGERIAN can legitimately report.
Mr. Nanono, 74, years old as reported by The Nation gets married to his secret lover  of 18 years old in a mysterious wedding plan
The wedding took place by just three delegates of the septuagenarian groom on Saturday in Jere town of Kaduna State.
"The priest just relegated three individuals and cautioned them against revealing the subtleties of the union with individuals," said a family source who favored secrecy.
You may read This Simi And Adekunle Gold Two years wedding Anniversary Will Surprise You
Every day NIGERIAN discovered that the lady, just distinguished as Rakiya, has effectively gotten comfortable with the clergyman's Tamandu Close home in Kano.
Albeit the pastor's family had kicked against the wedding, sources said Mr. Nanono demanded the wedding to marry the young lady regardless of been more than 50 years of age.
Read: My Pastor Was Sleeping with Her While Telling Me To Drink My
"The clergyman is frantically enamored. He seemed relentless," said the source.
In October 2019, the minister said there was no cost of food  in Nigeria as N30 can be used to feed one accessible in the country.
"Food in Nigeria is genuinely modest contrasted with different nations. In Kano, for example, you can eat N30 worth of food and be fulfilled. Thus, we ought to be appreciative that we can take care of ourselves and we have moderately modest food in this country," the minister said.
What is your view about this minister married 18 years Lover?
What Happens To My Son Is Not Ordinary It Is Spiritual Doyin Okupe Says
Reacting to the current trending story of his son the former special aid for Jonathan's Administration Doyin Okupe said his son is going through spiritual challenge because it is unusual.
[tps_title][/tps_title]
Reacting to the current trending story of his son the former special aid for Jonathan's Administration Doyin Okupe said his son is going through spiritual challenge because it is unusual.
While speaking further the former adviser said Bolu suddenly came out as gay that he posted on his page with flag is not Godly because Bolu was raised in Christian way.
Bolu who posted the picture with flag wrote a word:"Yes, I'm Gay AF," he captioned the photo.
Meanwhile many Nigerians have reacted and shown concern over this development. Many slammed him for wasting his father's resources and he should not be the type to do such.
The issue of sexual my son developed was not strange to me because am aware that is currently going through a spiritual war ,Mr Doyin says.
Ready Related Stories
9ice takes his family to Dubai for Vacationing You will not believe What Happens
Breaking News: Donald Trump Impeached by US House Of Assembly See What Happens
The former aid adviser also wrote a lengthy words that shows his concern and emotion over the gay issue of his son,the biblical word was posted on his page
he wrote it on his Instagram handle
"The picture below is that of Mobolurin Okupe. He is my son. I gave him the name MOBA OLUWA RIN, ( I WALKED WITH GOD) because he was born at the time I gave my life to Christ".

"I have been aware of this his new orientation for a while now".

"He knows that as a Christian and a witness for Christ ( an evangelist) I am vehemently opposed to homosexuality as it runs contrary to the avowed precepts of my Christian faith".

"For me I look beyond the surface or the physical. Here I see a major spiritual challenge ahead but I know as my God liveth, this whole saga will end up in Praise to the Almighty Jehova who i serve day and night".

"For it is written:

Behold, the hand of the Lord is not shortened that it cannot save, neither is His ear deaf that he cannot hear.

Isaiah 59 vs 1".
What is your take on this Bolu gay sexual issue
Let your voice be heard ,drop your comment in the comment box.
If you like what we do kindly be part of our mailing list to receive freshest update from Blend
More Winning: Nigerian Born US Army Awarded With Best USO's Soldier Of Year 2020
As the saying goes "Naija No They Carry Last" such is the case of Sergeant Mary Ehiarinmwain who was chosen among the other collogues in US army for her brave record of achievement in her humanity service for her profession.
As the saying goes "Naija No They Carry Last" such is the case of Sergeant Mary Ehiarinmwain who was chosen among the other collogues in US army for her brave record of achievement in her humanity service for her profession.
Sergeant Mary Ehiarinmwain done an incredible work by response quickly to rescue and safe the life of her dear military soldier from death .
In his statement Hiram Figueira through his Linkden official page said In June 2020, Ehiarinmwian witnessed a vehicle flip over in front of her and land on its roof. Unknown to her at the time, the driver was another soldier from her unit, the 523rd Engineer Support Company at Schofield Barracks, Hawaii.":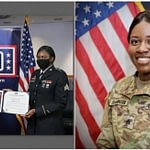 "Ehiarinmwian immediately pulled over and approached the smoking vehicle. She freed the driver and pulled him to safety, where she kept him stable until EMS arrived. The driver survived with minor injuries."
Read this article
We Are Not Subjected To Answer Your Invites Nigeria Army Told Judicial Panel Over Lekki Shooting
With this Figueira said US army sees this as a milestone achievement and deserves to be awarded hence the awarded was given to her .
While Ehiarinmwian sees this as normal and move with her responsibility the military went beyond and deserve to be treated with great pleasure.
In another development, another Nigerian man in the US who was working in military lieutenant Agunbiade was praised and awarded an award for his service,the US Army never goes without appraisal hence they awarded Agunbiade for managing the fund giving to him worth over $45M equivalent to (17,385,350,000) in his jurisdiction.
Lieutenant colonel Agunbiade was awarded with Navy and Marin Corp Development Medal for his incredible work.
In conclusion Mary Ehiarinmwain is a good per excellence for her great record of achievement that anybody would love to emulate and copy .We say congratulations to her