Releasing official statement over property burn by hoodlum Igboho makes a strong affirmation to revenge for those who behind the incident.
The hoodlum attacked the house of Yoruba activist Sunday Igboho located in Ibadan, the attacked was carried out by gunmen who came to his old building releasing fire incessantly before the house was put on fire .The whole building of the activist was razed down with fire . The event came to Igboho as surprise earlier today  by his brother who was leaving in the building.
Related Story to read : Dogara-house-invaded-by-hoodlums-claimed-to-be-endsars-protesters
https://blendng.com/donald-trump-impeached-by-us-house-of-assembly/news/
https://blendng.com/some-california-incumbents-lagging-in-fundraising-report/politics/
https://blendng.com/seyi-goe-unclad-with-butt/entertainment/
According to the official statement by Oyo State police said the hoodlum came to the house of the activist were seen rode in hummer bus  and Micra  started releasing fire sporadically before they set the house on fire .
The property which said to have worth N50 million amounted to $12,8205 by the activist(Sunday Igboho) .
The pictures of the old building who was razed down by arsonist captured by our reporter and can be seen below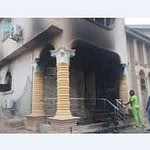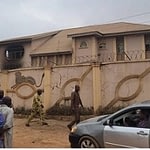 Replying to the incident the activist went to Twitter to express his concerned over the matter and what he meant to do.
This is he what he tweeted :Breaking News: I would revenge.
While narrating the incident to the journalist Igboho said the arsonist fired incessantly before breaking in
he wrote further :
  "Around 3.30am today, my younger ones residing at my old house rushed to my gate to wake me up, saying some bandits came to the house, fired gunshots, broke the gate, and set the house ablaze. The two people at the house managed to escape. By the time I got there, the bandits had escaped. So, we called firefighters to help us put out the fire."
It will be recalled that we earlier reported that ffk-to-presidency-it-will-be-serious-tension-if-buhari-try-to-kill-sunday-igboho
The house which was put on fire early  hour of today has received series of mixed reactions by many Nigerians which they regarded as work of some opposition party in the state, can this be the true reason for this development BlendNG reporter gathered some views of Nigerians over this, video coming shortly.
If you like what we do kindly be part of our mailing list to receive freshest update from Blend