An innocent man who was sent on an errand by his mother meets an untimely death by the operation of state owned security apparatus called Amotekun.
The death of a young man in Ibadan during the gun shot operation by the security operatives of  Ametekun has led to the untimely death of this man at Mokola . The incident was happended by one of a security personnel of Amotekun who incessantly releasing a gun when he was cautioned to stop the shooting. While exchanging the gun shot during the operation the Amotekun security man refused to stop the shooting and he eventually killed the young man ,what a great loss.
The amount of blood flowing from the man after he shot was so much that when taking to the University teaching hospital Ibadan he was rejected as the Dr said he has lost much blood than expected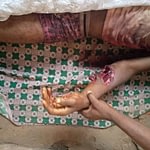 When the mother of the deceased went to the scene of his son's death ☠️☠️☠️ the mother cannot control herself and wept incessantly .
You may like this:
Nollyhood-mourn-the-death-of-orisabunmi-at-60
How-u-s-commandos-rescued-kidnapped-american-in-nigeria
Nigeria-should-be-totally-shut-down-nobody-should-go-to-work-2baba-advises
While talking to the Amotekun security operatives what led to the killing of her son the Amotekun security personnel threw the woman clothing and showed unconcerned about the death .
The Amotekun car with No 0125 was drove away without explaining  the reasons for the shooting and killing of the boy .
It will be recalled that Amotekun security was set up across the States of Yorubaland not less than six month ago and has started operation across the South West Of Nigeria .
But one will ask why the killing and uncensored of the body becoming alarming, this is a great challenge for the Amotekun security body to look into we are of opinion that within a time the body will be able to overcome all the issues of social important.
What is your take about this incident that just happened ?
Make your comment know on the comments box