Facebook suspends Trump social media account see what Mark says
Following the recent development of law break and order in US at Capitol by outgoing United States president Donald Trump's supporters over the transition of power to the incoming 
Following the recent development of law break and order in US at Capitol by outgoing United States president Donald Trump's supporters over the transition of power to the incoming  and democratically elected president Joe Biden at the just concluded general election in the state.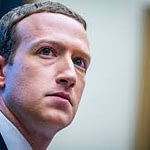 The CEO of Facebook Inc. has issued a strong warning concerning the recent development to the orchestrator(Donald Trump 'supporters) of such action and policy puts in place to safeguard the democratic norms and order in the state.
In his statement which reads as a stern and firm decision that is needed to make at the moment which goes  thus:
The shocking events of the last 24 hours clearly demonstrate that President Donald Trump intends to use his remaining time in office to undermine the peaceful and lawful transition of power to his elected successor, Joe Biden.
His decision to use his platform to condone rather than condemn the actions of his supporters at the Capitol building has rightly disturbed people in the US and around the world. We removed these statements yesterday because we judged that their effect — and likely their intent — would be to provoke further violence.
Following the certification of the election results by Congress, the priority for the whole country must now be to ensure that the remaining 13 days and the days after inauguration pass peacefully and in accordance with established democratic norms.
Over the last several years, we have allowed President Trump to use our platform consistent with our own rules, at times removing content or labeling his posts when they violate our policies. We did this because we believe that the public has a right to the broadest possible access to political speech, even controversial speech. But the current context is now fundamentally different, involving use of our platform to incite violent insurrection against a democratically elected government.
We believe the risks of allowing the President to continue to use our service during this period are simply too great. Therefore, we are extending the block we have placed on his Facebook and Instagram accounts indefinitely and for at least the next two weeks until the peaceful transition of power is complete.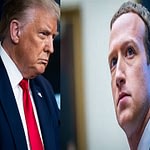 What Really Happens Over This Development
It was reported that the outgoing president trump' supporters try to disturb and disrupt the transitional process of power to the democratically elected incoming president Joe Biden .
The incident was started at Capitol in United State which sending the signal of disorder and anarchy if the care is not taking. The measure takes by Mark in preventing and suspending Trump's social accounts is very a good step that is needed at the moment so as to keep the States from anarchy, disorder that can bring about unforeseen situation in United States which if not curtained can transit to serious economy and political disaster across the world.
You May Read These Stories:
Wizkid drags President Buhari On Twitter, Says He Is Incompetent And A Failure
What We Think ?
In view of this we think it is a great measure that is needed to take for safety of laws and order in the States because if this step is not taking by Mark it will degenerate to political disaster which is not a good factor especially during this pandemic.
We are of the view that Trump the outgoing president might be sent on exile as a result  of his action.
With this we think Trump needs to take it easy and allow the democratically elected #joebiden to take in the seat if he has any disagreement he should take his grievances to appropriate channel for legal processes to take effect and allow the peace to reign in the States .
Nobody wishes to see the war or envisioned it to happen because we are just gradually recover from the effects of the #Covid-19 pandemic which has seriously affected businesses across the world.
President Trump should adhere to the rule of law and be the keeper of peace and harmony.
Ready this article:
#EndSars: FG Created Over N25B To Supplement The Plan For Youth Funding Programme
Wizkid drags President Buhari On Twitter, Says He Is Incompetent And A Failure
#EndSars: FG Created Over N25B To Supplement The Plan For Youth Funding Programme
Funke Akindele Marriage of 2 years with JJC Skillz Crashed
Funke Akindele's marriage of 2 years with JJC Skillz has said to have been crashed as a result of fornication and gross misconduct on the part of the husband
Nigerian famous celebrity and filmmaker, Funke Akindele's marriage has crashed this was made available by her husband JJC Skillz through his social media handle. JCC Skillz made this known while posting about how the marriage could not stand with the test of time.
JJC Skillz revealed the news in a post on his Instagram page after initially denying allegations of his marital problems in April.
He said the last two years had been extremely difficult for them.
He wrote, "Dear Friends and family, I need to let you know that Funke and I have separated. While it lasted, we shared a lot of things together and have created 2 beautiful children. The last two years have been extremely difficult for us.
Also read why Queen Naomi Breaks Up With Ooni Of Ife
"I know I have tried my best to fix things, but I believe it is beyond repair now. 3 months ago and at Funke's insistence, I moved out of the house and apart from AMVCA have not been able to get Funke to sit down in an amicable manner to discuss the future of our relationship.
"I'm making this announcement so that the public is clear that we both are pursuing separate lives. We still have issues that need to be addressed such as the custody and wellbeing of our children which is paramount as well as business interests that need to be disentangled but I have no doubt that these will be resolved one way or the other."
My Work Starts From Day One If I Am Elected – Tinubu
The national leader of all progressive congress APC, Asiwaju Bola Ahmed Tinubu has come out to address the delegate during the voting process and said he will start working from day one if is elected as president of the federal republic of Nigeria
Former Lagos State Governor Bola Ahmed Tinubu addressed the delegates that his commitment to the nation's development is uncompromised and he will start working if elected as president.
Read Also :Owo Church Attack: Tinubu Donates ₦75 Million To The Victims
He assures the delegates while giving his words to vote for him, Asiwaju who is one of the 2023 presidential aspirants for APC says that insecurity in Nigeria will be a thing of the past.
He pleaded for their votes and promised that insecurity and terrorism will be dealt with drastically.
He however urged the delegates to vote for him b
Recall that Mr. Bola Ahmed Tinubu has visited the scene of the Owo Catholic Church attack and donated a whopping sum of 75 million nairas to the victims.
Owo Church Attack: Tinubu Donates ₦75 Million To The Victims
After the tragedy that led to the death of about 25 people on Sunday 5th in Ondo, Tinubu visits the church and donates 75 million to Owo to the victims of the incident
Tinubu visits Owo donates 75 million to the catholic church
Former Lagos State Governor, Asiwaju Bola Ahmed Tinubu visits Owo, Donates 75 million nairas to the victim of yesterday's attack in Owa, Owo Ondo State.
Owo attacked by unknown gunmen were announced on Sunday in Ondo where Catholics member were worshiping their God. The massacre which was taken place where members of the church were gathered to praise on Sunday 5th of June. It was recorded that over 25 people were killed by these dreaded gunmen.
Also Read : 2023 : Pro-Tinubu Group Opposes APC Consensus
The incident was seen as gruesome by Nigerian Nigerian and it was condemned, while reacting to the attack, APC 2023 presidential aspirant Bola Ahmed Tinubu expressed his feeling and condemned the attack.
Tinubu was seen visited the place and donated a whopping sum of 75M to the victims at the hospital where there are currently receiving treatment.
Remember that on Sunday, unidentified armed men stormed the St Francis Catholic Church in Owo and opened fire on worshipers.