The Nigerian police has made and enforce newly enacted quarantine law act of Jan 26 to effect  with the directive of inspector general of police .
The decision was made possible through the recent signing of Covid 19 and quarantine regulatory law by Gen. president Muhammad Buhari .The wearing of face mask in public is now mandatory to all Nigerians failure to do so will lead to an arrest as said by IG Adamu the inspector general of police . Admau has ordered all the policemen to arrest and prosecute any offenders who found guilty to adhere to this law.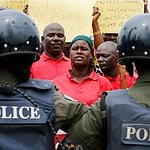 Reletad Article For You : See-Why-Australia-Stop-Covid19-Vaccine-For-Use
According to (Covid 19) Corona Virus Disease regulation of 2021 which was backed by Nigeria law is an offence under the law and become punishable on the summary of conviction which attracts a fine or a term of 6 months jail under the new quarantine law section 5 of federal republic of Nigeria.
The need to put and restrict public from further contract deadliest novel virus called Corona Virus is paramount and it is in this that federal government  enacts a covid19 new law under the quarantine law act of Nigeria. Not more than thousands of millions of people have contracted the disease; the pandemic which came to effect in earlier year of 2019 has put the world on havoc with death rate of about 23% of world population in which Nigeria is not left out.  
In another development , sequel to this the opposition party has questioned this development saying president Buhari is not doing well as regards this new act. They claimed that the president is playing politics over this and it is an act to suffer Nigerians.
Our Take
Nigerians should prepare and get ready to apply for this newly enacted Covid19 law in order to avoid being arrested or jailed for conviction. Face mask usage will be on high demand as it is becoming necessary for both Nigerians and other nationals to comply with covid19 protocols .
What Is your take on this new development from Nigerian Police
Make your comment Known in the box
If you like this story kindly be part of our mailing list to receive freshest update from Blend