The photo of the woman who gave birth to sexpulets after 28 years of marriage has broken the net after the woman shares the picture  .
The woman who was reported to have been waiting for more than 28 years of marriage without a child has shared an amazing thing God's done for her .The incident was happended in Bayelsa State where the woman is living in .
You may read this article 👇👇
https://blendng.com/20-year-old-woman-who-was-impregnated/news/
There is a large crowd of people gathering at the hospital to welcome the birth of the woman . It was reported that the mother of the sexpulets is not allowed to go out of the hospital for whatever reason all the needed materials was provide for her in the hospital .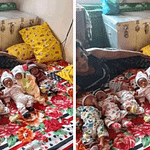 Bayelsa people can't hide their feeling and joy over this development .The said sexpulets have  been receiving serious attention,care and protection both from the hospital and the Bayelsa people .
You may also read :actress-etinosa-idemudia-gives-birth-to-child-after-seven-years
The said  sexpulets were named Miracle, Mercy, Merit, Marvis, Marvelous and Mirabel respectively, what a wonderful God.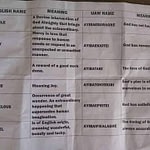 [wpdiscuz-feedback id="0rxwdd28es" question="Please leave a feedback on this" opened="1″][/wpdiscuz-feedback]